Butterfly and Reptile Sanctuary is a popular tourist attraction located in Ayer Keroh City, about 15km northeast of Melaka Town. Also known as Taman Rama-Rama by local people, it is home to a huge collection of animals ranging from beautiful butterflies to snakes, lizards, crocodiles, koi fish and even a pair of gorgeous golden leopards.
The Butterfly and Reptile Sanctuary houses dozens upon dozens of butterfly species, flitting about everywhere in their enchantingly landscaped habitat. It is one of the world's most comprehensive butterfly and insect farms. The farm has more than 200 local butterfly species including rare ones like Raja Brooke and Birdwing species.
Spread across an 11ha jungle area, the complex is part secondary jungle and part landscaped park. The well-maintained sanctuary was opened since 1991 and is divided into five sections:
The sanctuary also houses a wide variety of exotic snakes within its beautiful and fascinating nature landscape. Be forewarned, those who do not take too kindly to creepy-crawlies - there are lots of huge spiders, scorpions and other six and many legged insects that will make your skin crawl.
Fortunately, those are not free to roam as the butterflies are. Visitors can also be able to view the impressive collection of snakes includes the Albino Cobra, the giant Burmese Python, and the King Cobra. There is also a collection of more than 400 insects' specimen to be discovered.
The Asian Brown Tortoise, the largest tortoise species in Asia which grows up to 25 kg
Butterfly Garden
First up is the walk-through Butterfly Garden, the Butterfly & Reptile Sanctuary's premier attraction. It is a place where hundreds of butterflies, simply bursting with colours, fly freely.
The garden has more than 20 different species of butterflies, including the Black and White Helen, Malayan Birdwing, and the Rajah Brooke's Birdwing (Malaysia's National Butterfly, named after Sir James Brooke, the 'Raja' (King) of Sarawak).
Koi River Valley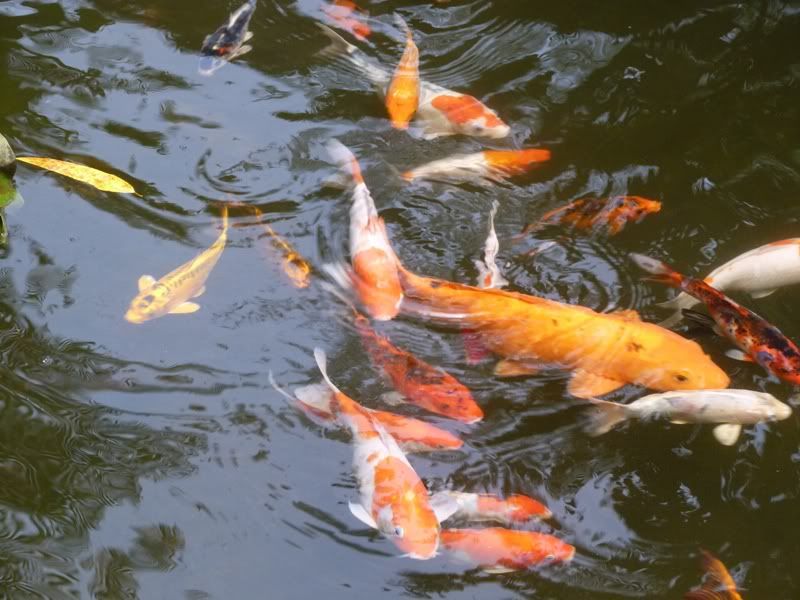 The Koi River Valley is undoubtedly the most serene section of the park. Here hundreds of colourful carp swim around in the beautifully landscaped ponds, complete with miniature waterfalls and surrounded by tropical plants. Check out the 250m-long canopy walk: the sights here make for great souvenir photos.
Opened in October 2008, Wild Photo Lane is another great place for souvenir photos with the animals of Butterfly & Reptile Sanctuary: here you can take up-close-and-personal shots with the Burmese python, red-tailed boa, giant green iguana and more.
Reptile Aviary
Also be sure to visit the Reptile Aviary where snakes such as boas, pythons, vipers and cobras can be found at the Butterfly & Reptile Sanctuary. Check out the giant Burmese python and the 20ft reticulated python; non-snake lovers had better watch out for the long-nose whip snakes (with their slender twig-like bodies and green scales) camouflaged in the leaves of trees in this aviary.
Just past the lizards exhibit you can see a small closed-off section of the park where crocodiles live: they look pretty lazy and it seems like the only movements you see are when they move their heads. Also in this section is a cage with a pair of golden leopards. They are a gorgeous duo and feeding time is obviously a sight to see.
Park Admission
Opening Hours: 08:30 – 17:30 open daily
Address: Lebuh Ayer Keroh, 75450.